Born March 16, 2005
KAMI was co-bred with Maya Butovsky.

Ch. Dragonfly's Kamilah
Kami completed her championship at Mid-Hudson
by taking WB & Best of Breed!
Kami is our 26th champion.
Thank you judge Carol Esterkin.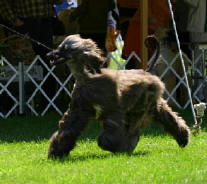 3 point major at Greenwich Kennel Club by going
WB & BOW under judge Mrs. Wendy Paquette
~~~~~~~~
WB and BOW under Mrs. Lotte Jorgensen at
Ladies Kennel Assoc. of America

~~~~~~~~
5 point major at Trenton KC by going Best Of Breed over specials.
Thank you judge John Roger Morton!
~~~~~~~~
4 point specialty major at
Nutmeg Afghan Hound Club Specialty Show:
Winners Bitch, Best of Winners, Best Puppy
from the 9 - 12 Month Puppy Class!
Thank you judge Doug Gaudin!
~~~~~~~~
Kami wins a 5 point specialty major reserve
and Best Puppy at
Richmond Afghan Hound Club
from the 9-12 puppy class!
Thank you Judge David Cochrane.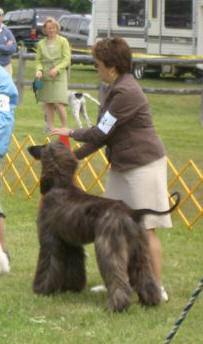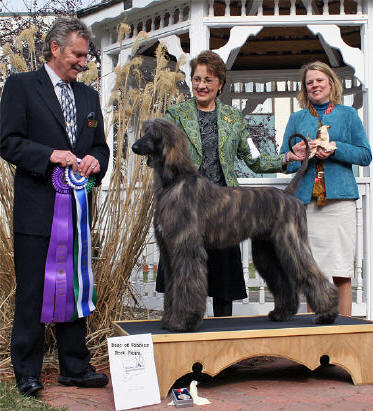 Photo by A. Stromberg

Pictured here at 5 Months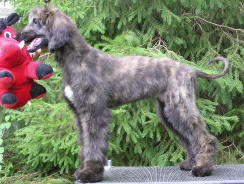 Kami's pedigree:
Ch. Ledgehill's Trail Blazer
Ch. Qamari's Flying Colors
Ch. Journey's Judgement Day
Ch. Vendikhar Roulette
Ch. Shai-Tam's Qizz My Grits
Ch. Qamari's Charming Alibi
Ch. Jeheran's Seyquin
BenZari's Dusty Dawn UD, LCM
Ch. Kameron Krystal of Dragonfly, SC
Ch. Pahlavi Puttin On The Ritz
Shirkden Shazam
Alarickhan Jehada Pahlavi
Kameron's Stardust Fallon
Ch. Karzak's Apocalypse
Wildenau's Edelwiss
Ch. Dragonfly Daniella Kara
Ch. Boanne Dragonfly Lx Kameron
Ch. Mithra Gabriel of Etrigan
Mithra Nataraja of Etrigan
Ch. Etrigan's Europa Evermore
Ch. Xandali Isabeau of Boanne
Ch. Boanne's Heart N' Soul
Xandali Lucky Stripe
Ch. Dragonfly Portrait of a Lady
Ch. Qamari's Flying Colors
Ch. Journey's Judgement Day
Ch. Qamari's Charming Alibi
Ch. Kameron Krystal of Dragonfly, SC
Ch. Pahlavi Puttin On The Ritz
Kameron's Stardust Fallon